Is Your Border Collie suddenly aggressive in some instance? Although it is rare that this type of dog breed becomes aggressive but at times, it can happen. You may be wondering why some of the gentle creatures like the Border Collies have become suddenly aggressive. Maybe your furry friend is one of them and you don't know why they become one. Some of the common causes are barking, growling, they may even bite depending on the situation.
Dealing with your dog's behavioral problems can be quite challenging and you need to carefully examine them and correct them in a gentle possible way. That said if you suspect that your Border Collie becomes aggressive for unknown reasons, act upon it with haste. This article will closely examine and point out the common reasons why some dogs behave unusually.
CALMING SUPPLEMENT
BRAND
EXPERT RATING
CHECK PRICE
PetHonesty
Calming Supplement

Check Price



FurroLandia
Calming Supplement

Check Price



Premium Care
Calming Supplement

Check Price



Zest Paws
Calming Supplement

Check Price



Maxxipaws
Calming Supplement

Check Price



The temperament of Border Collies
Border Collies are among the most intelligent dog breeds. They were born and bred with cunning skills and unnatural instinct that is specifically designed for herding sheep and cattle and mainly as a pastoral dog. They have full and brimming energy which is why they are needed more physical activities compared to other canine breeds.
When it comes to their temperament, Border Collies are not only good for being a pastoral dog, but also they make a great dog companion for the family.
They are not aggressive but they are alert. However, if they become bored and their bad behavior worsens, they may resort to digging, chasing cars, and even barking, they may even become aggressive, and other annoying behavior.
Although they are usually highly active, alert, and loves to jive with others such as humans and other pets, they can also become shy and reserved dogs. That is if they aren't properly socialized early on. This can also lead to anxiety and they can become sensitive to other things.
These dogs are exceptionally good at training which is why they are easy to train with enough positive reinforcement and the right attitude of training. That's why it's an idea for them to be trained at an early stage especially if you are going to let them off the field doing rounds and checking up your herds of sheep and cattle.
Why your Border Collie seems aggressive? — Here are the common reasons
If you think your furry friend is making an unusual behavior, probably there is an underlying cause to it. As we have mentioned before, this breed is not fond of being aggressive towards humans and other factors, especially his family.
It can be an overwhelming task to know what really causes them to be so aggressive. But here are what we think the common reasons according to pet owners and vet's observations.
Food Aggression
Dogs can become aggressive when it comes to food. It's their natural instinct to become aggressive and protect their food from predators at all costs.
They inherit this behavior to the point that even they are being fed by their pet parent, they can become quite aggressive especially if you are taking their kibble food away from them. Dogs will even growl at you or at other dogs. But not all dogs behave this way.
That said, never take their dog treat or kibble food if you think he will growl at you. Don't even bother taking his bone when he is busy chewing it. If you want, you can just call your dog and distract them, then take whatever food they have.
Physical Pain
If your dog is experiencing physical pain and feeling a lot of stress, it can become a little too extremely aggressive and agitated. It would be wise enough as a pet parent to carefully examine your dog's reaction while you are tending your wounds.
Dogs can't handle physical pain very well be it from injuries or illness. That's why they will react in an aggressive way. Sometimes it's best to let them have space for hours and observe them without getting near to them. Or you can just wait for them to cool their head.
But if you don't want to touch them, you can just have your vet personally visit your dog to see what's the underlying cause.
Also, check these signs that may be the cause of your Collie's aggression.
Diarrhea
Lethargic
Refusing to drink
Refusing to eat
Confusion
Vomiting
If your dogs have shown some of these signs, then, the best possible way is to consult with your veterinarian.
Anxiety
Even dogs suffer from mental health issues such as anxiety, just like humans. If you think your pooch is showing some signs of unusual behavior from drastic change like change in environment or having a new person or dog in the home, this also adds the factor which causes the dog to become aggressive.
There are other possible signs that lead to a dog's anxiety and this can also lead to aggression. Some of the signs are:
Constant pacing – Dogs handle their anxiety poorly which makes them pace more than usual. You will find them going back to and fro and pace in places such as the room, back yard, and other areas of your house.
Shaking – Some pooch will tremble because they can't contain the anxiety due to confusion or fear.
Digging – Anxious dogs will tend to dig beyond their usual activity. This will likely trigger if they feel something bothers them.
Excessive chewing or licking – This type of unusual behavior is a dog's way of controlling their mental struggle or a coping mechanism from a significant change in environment and other factors.
Sometimes it's the anxiety that makes your Collie act that's not supposed to be. So if ever your pooch has some of these signs, better consult with your vet.
Being mistreated
Another factor that makes your Border Collie aggressive is their past experience of being mistreated. Dogs who are mistreated early on will likely develop trauma and often lead to aggression and anxiety.
If you are a responsible pet owner, you must take heed of the positive reinforcement instead of giving them bad reward behavior or punishing them for their wrongdoings.
That said, never hurt your pooch be it unintentionally or intentionally because they will resort to violence and will probably attack you if something made them agitated.
Dominant Aggression
Dogs are instinctively territorial and they can become aggressive at some point. This form of behavior was drawn from their wild dog ancestors and passed from generation to generation and from different dog breeds. That said, it can be a bit frustrating when your dog is barking so aggressively towards other dogs, cats, and humans.
Given the fact that Borde Collies are smart and always on alert. Also, sometimes this dog is controlling and sometimes assertive. This is their way to protect their territory from strangers which they will go in defense mode, and they will do their best just to protect their loved ones.
Nervous
Dogs who are nervous can become aggressive. Because they often don't know what to do to the point they are going to become aggressive out of fear or nervousness. They will turn to their defensive mode especially when they got the upper hand which is their territory.
Your pooch will likely study and observe the movement of your guest especially if they are new to their eyes. If they sense something is not right, they may become nervous, fearful, or anxious that will make them become aggressive. This is just their common response if something is new to them.
Don't do some of these if your Border Collie is aggressive
Games that deal with aggressive dominance
Don't play some aggressive dominance-based games like tug of war, chasing games of any type. Your dog will likely increase their aggressive behavior to the point that it might become violent. Instead, have him play with games that involve calming effects like mental stimulation games.
Never shout, spank, or yell at your pooch
This will just worsen your dog's aggressive behavior. These should be your last option if you are attacked and turned violent towards you. Instead, try to get out of that situation and let your dog be alone. Sometimes the best therapy for them is just to give them space. Also, you must remain calm and gently call out your pooch if his aggression seems to cool off.
Don't agitate your dog
Never pressure your dog especially if she is stressed. Your dog will warn you by growling if he doesn't want near you. It's not a good idea to come closer to your pooch because it might suddenly attack you.
How to prevent your Border Collie from being aggressive?
Fortunately, there are numerous ways on preventing some unwanted behaviors that your dog, although some of the dog's temperament will vary and will depend on the root cause. Because of this, some of the approaches from this list will be effective some don't.
If the situation gets out of hand, the best thing you can do is to consult with your vet. Besides that, these are some of the ways that can prevent your dog from becoming aggressive.
Socialization with other dogs and people
If your Collie was introduced to socialization at his puppy stage, then it will greatly help your dog's mental well-being. Also, giving him enough physical activity with other dogs will significantly make him healthy in terms of mental health. Socialization is also great in building enough confidence with your dog.
Good thing that there is much dog training in regard to socialization. However, be advised that you will pay for the training sessions. Alternatively, the cheapest way to train your dog with socialization is to bring your dog outside. You can take your dog to a park or bring them along while you are going out for an hour.
Provide mental stimulation
Not only giving your Collie adequate physical activities will greatly reduce its aggression, but also providing them with mental stimulation. Because Border Collies are considered highly intelligent and highly active dog breed, it's normal for a pet parent to supply enough mental and physical activities.
The general rule is to give Border Collies at least 90 minutes of exercise both physical and mental exercise each day. That's why never underestimate the power exercise because they significantly affect your dog's mental well-being.
Among the most simple and effective ways to prevent your dog from being aggressive towards you is to know who is in charge of your pooch. That said, it's your job to become an authority figure to them besides taking care of their overall health. As you well know that Border Collies are born and bred to be loyal.
If your pooch knows who their master is, then there's a great deal that he will respect you. That said, it's better to be loved than feared. Because if it's the other way around, your dog will probably develop trauma which then leads to aggression.
It's time to call the professionals
If you think that your dog's behavior is getting out of hand, it's time to call the professionals to do. Border Collies that are aggressive should not be taken lightly. Calling professionals is the best thing if you want to rectify your dog's unwanted behavior.
They are the experts and know what to do. They can even identify the underlying cause of your dog's sudden aggression.
You may want to check this for more information.
Or… You can try to provide them soft chews tablet that will probably calm them down. This is extremely useful when it comes to handling your Border Collie that's aggressive.
---
Calming Dog Treats For Border Collies That's Aggressive — OUR TOP 5 PICKS FOR YOU!
OUR TOP PICK: PetHonesty Calming Supplement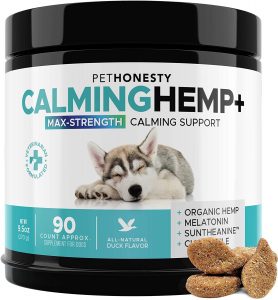 Product Name: PetHonesty Calming Supplement
Product Description: Our best pick for the calming dog supplement is none other than PetHonesty. If you tried so many stress remedy out there but none of them have a significant effect. And yet, you are still searching for the right product for your dog, search no more because this calming dog supplement will really help alleviate your dog's problem and in no time, your dog will just be fine. It's natural to doubt some of the products claiming they have the best remedy and the answer for your dog's anxiety and aggressive problems. PetHonesty is not just a highly effective remedy but it's gentle, safe, and nonsedating. It's all-natural and ducks flavor. This can be your perfect solution. Each tablet is soft chews that are easy for your dog to munch. In addition, it contains premium and all-natural ingredients. These ingredients are, ginger root, organic hemp seed powder, chamomile, Suntheanine, among the best elements. There's no GMO, no corn, wheat, soy. That said, this is good for dogs that have stomach sensitivities.
Brand: PetHonesty
Offer price: 39.99
Currency: USD
Availability: InStock
Offer URL: https://www.amazon.com/PetHonesty-Advanced-Calming-Hemp-Treats/dp/B08J4HNQZF
Valid until: December 31, 2025
Nutritional Value

Effectiveness

Value for Money
Summary
All in all, if you happen to have Border Collie that's suddenly aggressive, the better way to calm them is through taking stress relief supplements like the PetHonesty brand.
Because this the ultimate and the most effective product that we have listed. Also, if you want to improve your quality time with your dog, make sure to invest in this amazing product.
Pros
Affordable
Organic ingredients
All-natural
Highly Effective
---
Runners-up
FurroLandia Calming Supplement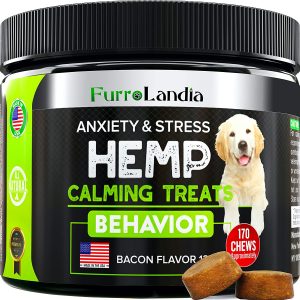 The last thing you want your Border Collie to have is to struggle with behavioral problems such as anxiety or aggression. Our second best product is the FurroLandia.
If you don't know how to calm your dog and probably you have experienced a bit of frustration, this may be the answer to somehow reduce and ease your dog's aggression.
As a pet parent, you know how awful it is to see your furry friend struggle with behavioral problems.
Your dog will definitely love this because of the bacon flavor which dogs really love. Besides that, each tablet comes with soft chews so dogs will have no trouble munching this. Not only this is good for Border Collies, but also it's ideal for all dog breeds and sizes.
The ingredients are very effective and come from all-natural sources. These include hemp oil, L-Tryptophane, chamomile extract, valerian extract, hemp seed powder, and more. In addition, this contains 74 organic minerals. Each pack contains a whopping 170 pcs.
On that note, is this your ideal calming dog treat? We strongly suggest that you need to try this. For a Border Collie who is aggressive, anxious, and experiencing phobias, this will surely calm your doggo and will also reduce his stress. This is super affordable and super effective.
Premium Care Calming Supplement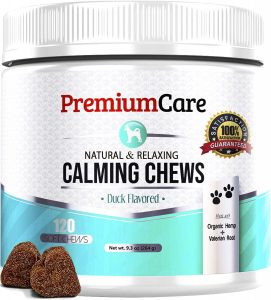 If you are finding a calming dog supplement with a different approach, say, a hemp-based formula, we recommend Premium Care calming dog supplement.
This is creating a buzz in the pet parent community. Even experts have strongly suggested that hemp-based formula dramatically decreases the dog's erratic unwanted behavior such as stress, anxiety, and other things.
This offers high-quality formula and a natural calming aid. Some of the notable ingredients besides hemp are passionflower, valerian extract, L-Tryptophane, ginger root, and chamomile extract.
This natural formula, it will make your dog calm in whatever situation he is in. Be it road trips, thunderstorms, fireworks, loud noises, and other things.
That said, most behavioral problems will ease by the time your dog takes one of these calming dog supplements. You can make sure there's no harm done to this. It's risk-free which you can guarantee. Plus, your dog can sleep well without being anxious about something.
Will you buy this one? For us, we strongly suggest that you buy this. Not only because it's highly effective, but because it's a new formula that is more effective than standard calming dog supplements. So if ever your Border Collie suddenly becomes aggressive, you will be needing this.
Zest Paws Calming Supplement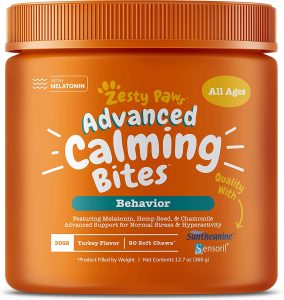 It really sucks when your Border Collie is suddenly aggressive out of nowhere. So you are going to need a helping hand besides expert vets and that is the help of calming dog supplement. That's why for our next pick, we strongly recommend the brand Zesty Paws.
We all know that Zesty Paws are among the leading brands when it comes to pet products, that's why it's an excellent option for you to put your trust in this brand.
This is your perfect solution for your furry companion that is dealing with aggressive behavior. Do you know? because they come up with an advanced formula that is highly effective and will probably calm your dog down.
This features Suntheanine and L-Theanine. Besides that, it consists of powerful ingredients such as organic ginger root, passionflower, valerian root, chamomile, and hemp powder. All these ingredients are an excellent formula for warding off hyperactive behaviors.
Dogs who also experience phobias in fireworks, anxiety, thunderstorms, and any other factors that could trigger an unwanted behavior will definitely ease by this calming dog supplement.
All in all, if you are well aware of the Zesty Paws brand, then you know exactly what you are paying. Given its reputation and well-received feedbacks from pet parent customers, you can safely bet with this amazing product. Besides that, the advanced formula with this supplement is what makes this product proved to be worth it.
Maxxipaws Calming Supplement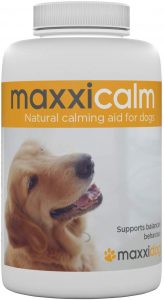 Last but not the least, Maxxxipaws dog calming supplement. You don't want to get your dog to become incessantly aggressive. The mental health of your pooch is important just as his physical health.
That said, the best thing you can do is to invest in a dog supplement that has a calming effect just like this. As a responsible pet parent, you will do whatever it takes just to give him a great life.
Besides ease dog's aggression, this is also effective for dogs who are facing separation anxiety and other distressful things.
Don't you worry about the ingredients because it's made with premium and all-natural components. This contains chamomile, L-Theanine supplement, and B vitamin.
In addition, this is completely safe with pregnant dogs. There's no drowsiness effect upon ingesting some of these. For accurate serving suggestions, you can check the label. Also, there's a canine behavior guide free ebook, making sure that you have the knowledge to tend your dog.
All in all, most people who never tried this seem skeptical. But the moment they try this Maxxipaws calming tablet, it really works for them.
With the proper care and adequate exercise, plus taking this supplement, expect your dog will decrease its anxiety, aggression, and other unwanted behaviors. Definitely, this product is worth investing in.
Buying guide for calming supplement for dogs
Before you buy your ideal calming supplement for your dog, it's best to look at some of the important factors first. When it comes to buying, you should be wise enough to know the difference between quality brands and substandard quality brands.
We know that selecting what's right for your dog can be overwhelming. That's why it's best to narrow down your products by simply considering these factors that are listed below.
Packaging
The first thing you should consider is the packaging. Because are always enticed by the packaging. Also, the packaging must have the necessary details to ensure that the contents of the product are perfectly safe. The ingredients should be on the label and the possible side effects or special formulation.
Most reputable brands have clear and well-presented details and indicate useful information so that buyers will have a full view of what the product actually is.
Nutritional Value
Most calming supplements for dogs are specifically designed to reduce emotional distress and aggressive behaviors. But other products have an added benefits other than calming down the dog. Those benefits will also support the overall well-being both physically and mentally. This will ensure that dogs will get the most nutritional value, not only free from aggression, anxiety but also from other diseases too.
Taste
Some of these stress remedy treats have certain flavors depending on the brand. The thing about flavored treats is dogs will likely eat them especially if the flavor is their favorite. That said, consider the flavor that matches your dog's favorite food. This way, your dog will easily eat the dog treat supplement.
However, be wary of the flavor you will choose because some manufacturers will include artificial flavorings which can be harmful to your dog. Instead, choose the product where the flavor is natural.
Filler products
If the packaging indicates adequate information on the product, be sure to check the ingredients carefully. Pay attention on the ingredients and see if there are any filler ingredients. Most inexpensive and low-quality contains filler products that is not good for your dog. Some of the fillers are sugar, soya, and wheat.
These ingredients are not that harmful to your furry friend, but they aren't healthy. Most quality products exclude any artificial, synthetic, and GMO ingredients. This makes sure that you are getting the most healthy treat as well as a highly effective calming supplement.
Frequently Asked Questions
Are calming treats safe for dogs?
Generally, calming treats for dogs are safe. That is if your pooch doesn't have an underlying health condition wherein it can badly affect or worsen the condition.
The best way to find out is to consult first with your veterinarian to make sure that the calming treats will be good for your dog.
Does calming dog treats really work?
Most calming dog treats works, but the effectiveness will vary depending on certain factors. There are some cases that the product won't work so you have to replace it and see if it's working.
Some products will take effect on dogs some don't. The bottom line is, calming treats can be a trial and error process until you get the right product for your pooch.
How long do calming treats last?
The general effect lasts for about 4 to 8 hours. Sometimes it will vary depending on the brand, active ingredients, and how your pooch digest the calming treat.
Final Thoughts
It's not an easy task to pick what's best for your pooch. Of course, it's a pet parent's instinct to search for the best that is greatly beneficial with lots of nutritional value just to keep their dog safe and healthy.
There are plenty of calming treats on the market right now but few of them have the best quality and proved to be highly effective. It's up to you what will be the best brand for your pet. Because at the end of the day, the best product for your furry friend will solely rely on your personal preference.
That said, we hoped that you have learned from our article and that you have chosen your ideal product. So if ever your Border Collie suddenly aggressive, you know what to do.
Check also our: 10 Best Harnesses For Border Collies Who Love The Outdoors