As smart working dogs, Border Collies always need something to get busy at. Without ample mental and physical stimulation, this breed will become aggressive, nippy, and unpredictable. This is why you should always dedicate time and effort to this dog's playtime and exercise. At home, Border Collie toys will play a big role in satisfying this breed's craving for brain exercise. You just have to pick the right toy that's safe, durable, and fun.
In this post, I reviewed eight of the best toys for this breed, together with added tips to keep your Border Collie mentally and physically stimulated.
DOG TOY
BRAND
EXPERT RATING
CHECK PRICE
Sniffiz SmellyMatty
Dog Snuffle Mat

Check Price

PrimePets 2-Pack
Dog Frisbee

Check Price

TRIXIE Flower
Tower Dog Toy

Check Price

REDLINE K-9 Dog
Bite Tug Toys

Check Price

Goughnuts Power
Chewer Pull Toy

Check Price

Outward Hound Hide-
N-Slide Puzzle Dog Toy

Check Price

Outward Hound Tornado
Puzzle Dog Game

Check Price

Our Pets IQ Treat
Activity Ball

Check Price
---
8 Border Collie Toys To Keep Your Dog Busy
OUR #1 CHOICE
OUR TOP PICK: Sniffiz SmellyMatty Dog Snuffle Mat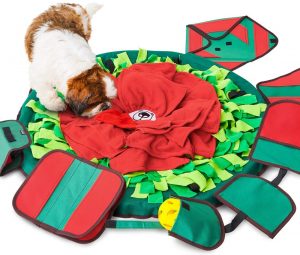 Product Name: Sniffiz SmellyMatty Dog Snuffle Mat
Product Description: If you're looking for the most engaging Border Collie toys, you'll never go wrong with the Sniffiz SmellyMatty Snuffle Mat. This will put your dog's nose and brain to the test by hunting for the hidden treats on the mat's pockets and flaps. Moreover, this snuffle mat has hidden treat pockets under the petals as well as cozy fabric grass where you can hide kibble. For added fun, you can attach the five puzzle toys that come in the package. Here, you can hide bigger treats that your dog can get by opening them.
Brand: SNiFFiz
Offer price: 39.99
Currency: USD
Availability: InStock
Offer URL: https://amzn.to/3DSOZuQ
Valid until: December 31, 2025
Fun Factor

Safety

Design

Value for Money
Summary
As for the toy puzzles, you'll get a ball pocket, puzzle board, handkerchief, book, and wallet. All of these will test your dog's critical thinking in order to access the treats. Your dog will enjoy 11 layers of dense fabric petals and grass, making it a perfect toy for slow feeding.
In case your Border Collie gets excited, the lip filling bars will prevent the mat from flipping. This is in addition to the non-slip bottom.
Overall, this is a very safe toy made from oxford fabric and fleece. Everything is machine-washable for added convenience.
Pros
Perfect for hours of mental stimulation
Machine-washable
Ideal for Border Collies with anxiety
Cons
You should train your dog out of chewing first to prevent damages to this toy.
---
RUNNERS-UP
PrimePets 2-Pack Dog Frisbee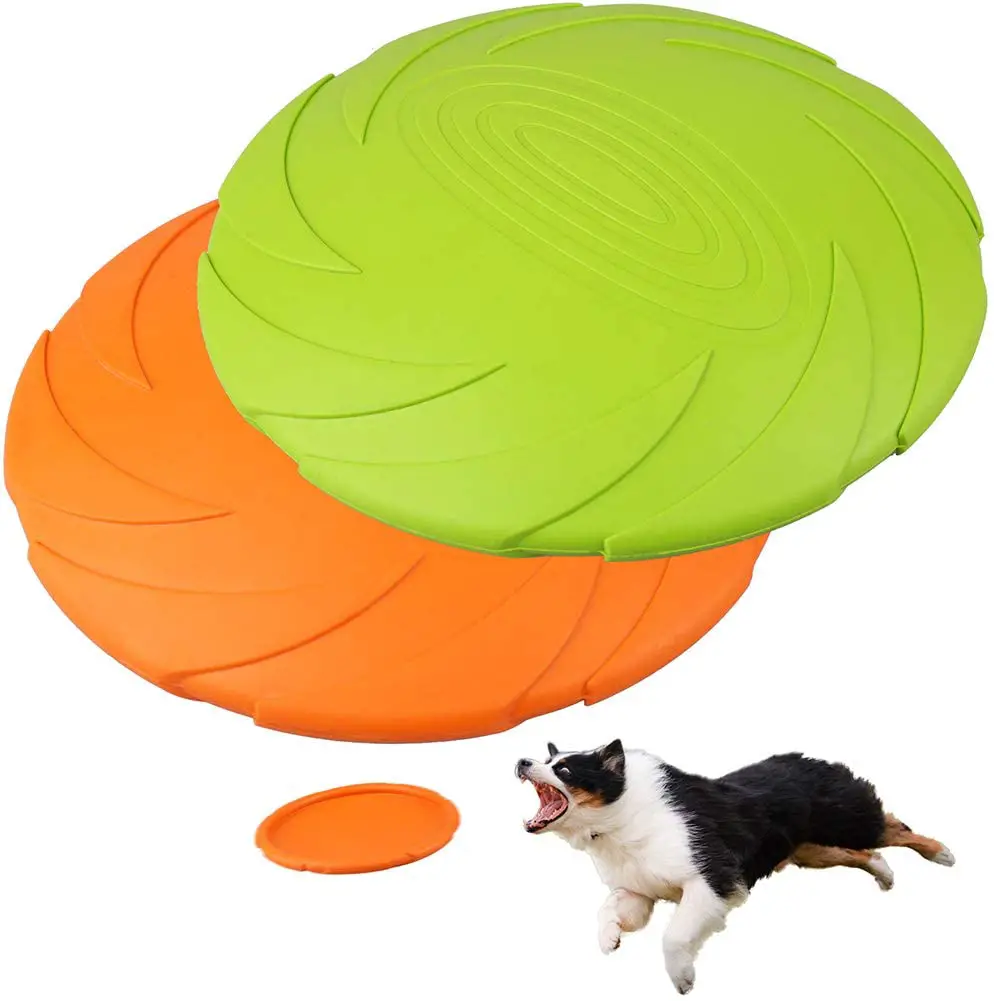 If you're looking for the perfect outdoor toy for your Border Collie, the PrimePets Frisbee is an unbeatable choice. Frisbee discs are a big hit among active dogs like Border Collies. It's also an excellent way to interact with your dog while training it for agility and obedience.
This Frisbee is made of BPA-free natural rubber. It's flexible, soft, and very durable. Your dog can bite on it without ripping or tearing it apart. The disc also has an excellent flight, which will surely send your Border Collie running and chasing.
Moreover, this saucer disc floats on water, so it's safe to use on the beach or pool. And when your dog gets thirsty, you can flip the disc over and use it as a bowl. It has a concave design that can hold both water and food for your dog.
Aside from that, this disc has a bulging surface that makes it easy for your dog to catch and bite. Nevertheless, it won't hurt your dog's teeth, unlike very stiff discs. 
Lastly, this comes in bright colors, which makes it easy for you to see it on the grass or water.
---
TRIXIE Flower Tower Dog Toy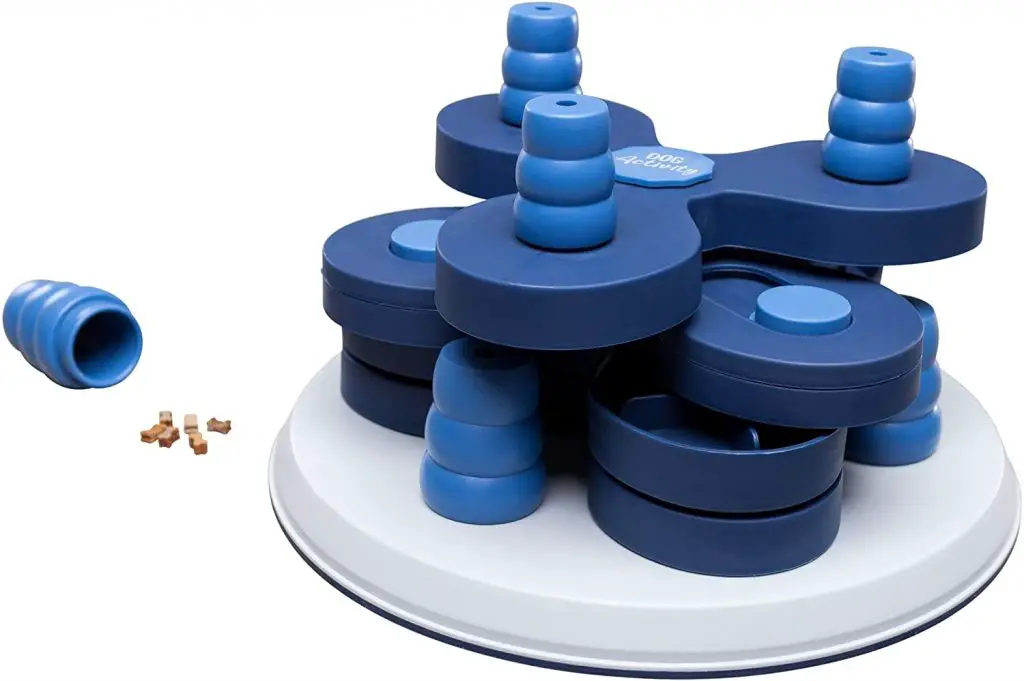 Another toy that will stimulate your Border Collie's mind is the TRIXIE Flower Tower. This has six cones equipped with sliders and slots where you can hide treats.
The goal is for your dog to open the slots to access the treats. This will help your dog use its brain to figure out techniques to open the toy.
Meanwhile, the cones serve as stoppers, which will level up the difficulty of the toy. This will surely keep your Border Collie busy for a long period. If you have a pup, this toy is a must so that it will grow as a smart and happy canine. But overall, this is suitable for dogs of all ages.
Aside from that, this is made of non-toxic rubber and plastic. It's also equipped with non-slip feet that will prevent it from sliding around.
Take note that this toy's lower compartments have bigger space, which can hold larger kibble and treats. The upper part is narrower, but it can still accommodate half a cup at most.
Overall, this is an excellent puzzle toy for dogs. It's more challenging than the other puzzle toys I've purchased for my Border Collie before.
---
REDLINE K-9 Dog Bite Tug Toys
Are you looking for toys you can use to bond with your dog? The REDLINE K-9 Dog Bite Tug Toys are great options. These are tough toys that can endure the pulling of your excited Border Collie.
Just remember that these aren't chew toys. It's made to endure tugging and not the shredding habit of dogs.
Moreover, this is made of jute, a very strong and rough fiber, the same material used on mats, sacks, and ropes. With this toy, you can satisfy your dog's prey drive.
My Border Collie is very fond of this, especially when we take him to the backyard. We usually spend 30 minutes tugging and playing with these jute toys. It lasts for a very long time as long as you don't give it to the dog as chew toys.
You can also use this toy to train your dog to bite and release. The handles are pretty comfy to hold, and it doesn't disconnect from the main toy.
Overall, this toy will keep your dog mentally stimulated. You'll get a pair of tug toys, with each one measuring 3" x 16". It's sized well for small to medium dogs.
---
Goughnuts Indestructible Power Chewer Pull Toy
If you're not a fan of the jute tug toy, you can consider the Goughnuts Indestructible Pull Toy. This is made of durable rubber with a number 8 shape. This lets you hold the other hole while your dog pulls on the other.
Unlike other chew toys, this one is very durable and can put up with the pulling of dogs within the 30 to 70 lbs. weight range. It's fun and guaranteed safe since the rubber doesn't have toxic chemicals.
Moreover, this floats on water so that you can use it on the beach or at the pool. It's also covered with a lifetime guarantee. If the toy sustains damages or punctures, you can contact Goughnuts, and they will send a replacement free of charge.
If you have an aggressive chewer, make sure that you choose the black rubber color with hints of orange. It's the Power Chewer+, which can withstand more tugging and biting force.
Take note that it's normal for this toy to arrive with a mild rubber scent. Just wash it thoroughly and let the toy aerate before using it with your dog.
So far, this is one of the strongest toys I've ever seen. Sure, it will get damaged after some time, but it will literally take your dog months to years to fully destroy this chew toy.
---
Outward Hound Hide-N-Slide Puzzle Dog Game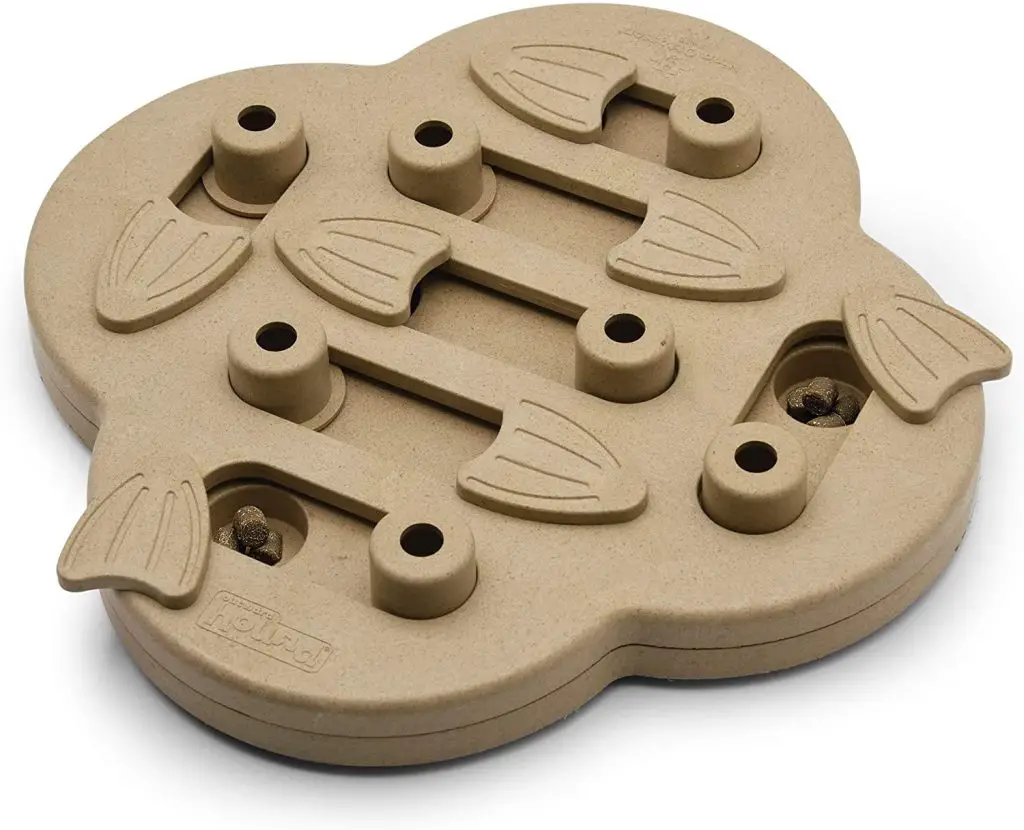 Another mind-boggling toy you can get for your dog is the Outward Hound Hide-N-Slide. This is equipped with seven swiveling flippers that will reveal the treats. It also has scoot and slide blocks that levels up the difficulty of this treat-dispensing toy.
Moreover, this Level 2 toy designed by Nina Ottosson is made of BPA, phthalate, and PVC-free material. There are no removable parts to prevent your dog from choking.
Aside from that, this is made of composite wood. It's durable, but you should still discourage your dog from chewing it.
In addition, this toy has a non-slip bottom, so your dog won't toss it around. Also, make sure that you get the toy once the treats are finished to prevent chewing and damages.
Overall, this is an 11.6" x 11.6" toy suitable for both pup and adult Border Collies. It can hold up to 1/4 cup of treats at once on its 14 treat compartments.
This is a great choice to relieve your dog's boredom and anxiety. It also exercises your dog's brain, especially if the weather outdoors doesn't permit for walks or backyard play.
---
Outward Hound Tornado Puzzle Dog Game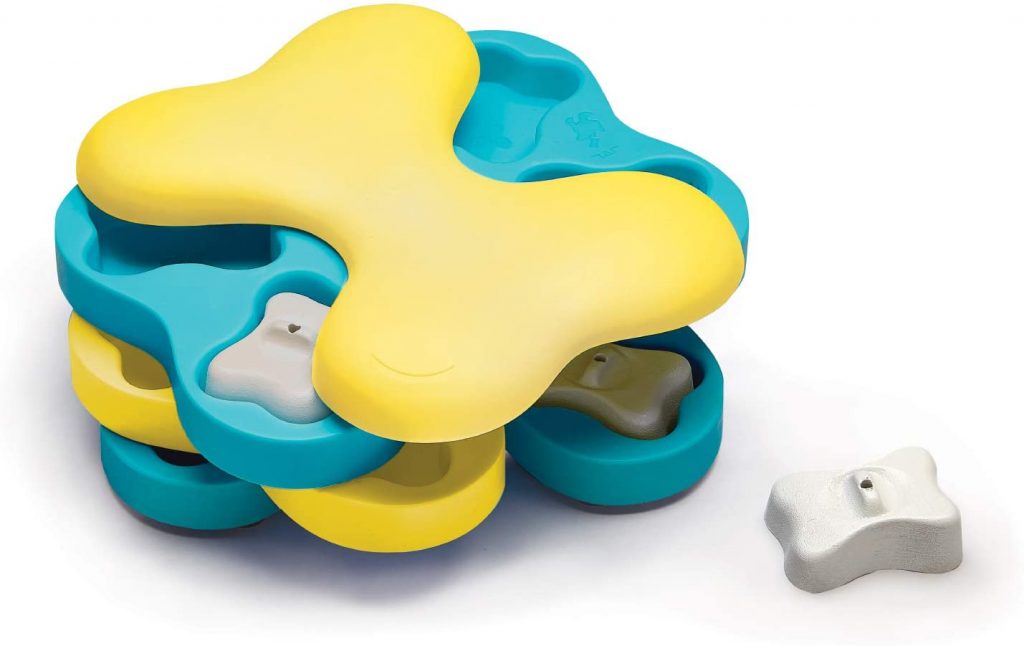 Another toy from Outward Hound that I swear by is the Tornado Puzzle. This is a level 2 toy that offers excellent mental stimulation for canines of all breeds.
This has four spinning layers that reveal the treat compartments. Your dog would have to push the layers to spin to get all the treats. And to level up the brain exercise, this comes with three treat bone covers that the dog has to bite and lift to retrieve the tummy reward.
Like the first Outward Hound toy, this is made of BPA and phthalate-free plastic. It also has scent holes that will captivate the dog's sense of smell. This will encourage your Border Collie to keep sniffing and playing.
Overall, this toy has 12 hidden compartments where you can stash yummy treats. This will give your Border Collie a rigorous brain exercise.
This is a great introduction to puzzle toys, and it's also very easy to set up, and it only requires simple cleaning.
However, I noticed that this moves a lot on the floor. If you want, you can attach a rubber strip underneath to keep it from sliding.
---
Our Pets IQ Treat Activity Ball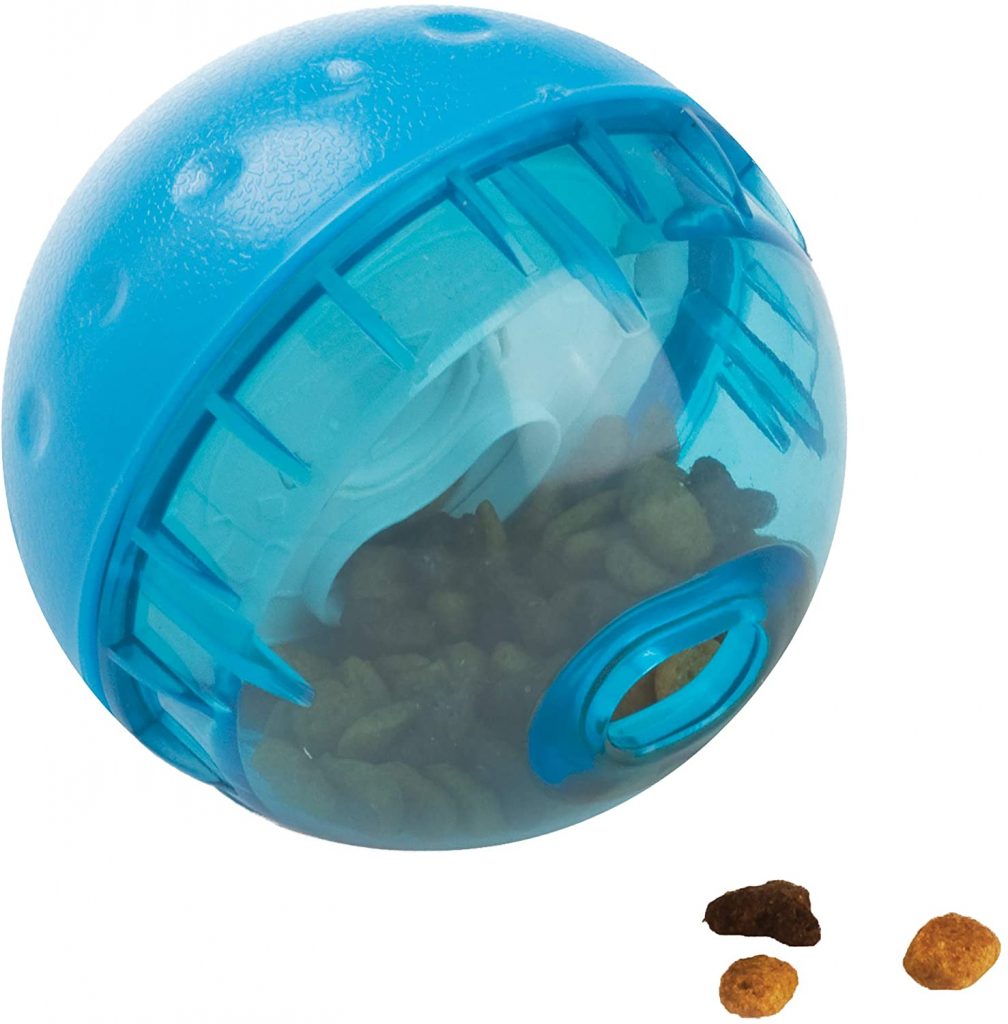 My last pick for this roundup is the Our Pets IQ Activity Ball. This treat ball is available in 3, 4, 6, 7.5, and 10.6-inch versions to suit the size of your dog. The bigger the ball is, the more treats it can hold at once.
This ball has a small opening where the treats will come out. Your dog has to toss, roll, and move the ball around. It will keep your dog busy for long periods, especially if you get the big version.
Moreover, this is made of hard plastic that easily disassembles for cleaning. And since the ball promotes slow feeding, it will prevent bloating and indigestion.
The only downside here is that the ball produces a loud sound when the treats rattle. Nevertheless, it adds to the fun of playing with this toy.
Overall, this is a fun toy, and it really made my Border Collie crazy. I like how simple the toy is, but very effective in keeping a dog's mind stimulated. Also, the material is very rigid, and the halves stay firm with the screws on.
---
How to choose Border Collie toys
When shopping for dog toys, I always refer to this 5-point guide to find the best deals:
✔️Type
Dog toys come in different types, which indicates how the toy works. The following are some of the most common options:
Ball. Balls are the quintessential dog toys. To make the ball mentally stimulating, look for a treat-dispensing type. This will keep your dog tossing and rolling it around.
Sniff mats. This toy type is very engaging for any dog. Your Border Collie will spend a lot of time sniffing and looking for the treat. Also, this toy is designed to test your dog's thinking since the treats are hidden in pockets that the dog needs to open.
Discs. Many Border Collies I've seen are obsessed with Frisbees. This satisfies their urge to run and chase with added fetch command.
Puzzles. Puzzle toys are a great way to stimulate your dog's mind. These puzzles have treat compartments and covers that your dog has to move.
Tug toys. Tug toys are a great way to satisfy a dog's prey drive. It will also let you teach the pooch how to release a bite on command.
✔️Toy size                     
Next, it's important to get the right toy size for your Border Collie. As a medium-sized canine, small toys just won't work. You need one that won't be a choking hazard and one that your dog can easily use. 
Make sure that the toy doesn't have tiny parts that your dog may swallow. For Border Collies, medium to large toys are the ideal options. You should also supervise them all the time. Once the treats and playtime are done, retrieve the toy to prevent chewing and potential choking.
✔️Material
Whatever toy you're going to buy for your Border Collie, make sure that it's made of non-toxic material. For plastic toys, make sure that it's BPA and phthalate-free. For rubber toys, it's quite normal to have a mild scent, which should wear off over time.
Remember that no toy is 100% indestructible. Border Collies are chewers, so expect all toys to sustain damages at some point. Proper supervision is necessary, so you can intervene when the chewing behavior starts.
✔️The dog's age
You should also match the toy to your Border Collie's age. Puppies might be too young for complicated puzzles, so the likes of balls and tug toys would be the ideal choice. As your Border Collie grows, you can introduce more complicated toys, including Frisbees.
✔️The dog's personality
It's also important to check what your Border Collie likes. Some dogs will lose interest in a snuffle mat but will go crazy over Frisbee. It depends on the personality of your dog and the activity it prefers.
---
Frequently Asked Questions
Q: How long can Border Collies be left alone?
A: Border Collies can't be left alone for long hours. Otherwise, they will become anxious and destructive. Even with toys, Border Collies need company to stay happy. But if properly trained and exercised, you can leave your Border Collie longer. However, you should ask somebody to check your dog multiple times throughout the day.
Q: How do you keep a Border Collie entertained?
A: Border Collies love interactive toys, puzzle toys, and flying Frisbees. Sniff mats are also a good choice if you're not around since they will keep your dog occupied. Nevertheless, this breed still needs an ample amount of physical exercise to burn its excess energy.
Q: How do you keep a Border Collie busy at home?
A: Interactive toys are a good way to keep your Border Collie busy at home. However, supervision is needed to prevent untoward incidents like choking and destructive behavior. Training is also important to exercise your dog's brain and teach it some tricks that will come in handy in the future.
---
Final words
The right choice of Border Collie toys will keep your dog busy and happy. It will also exercise your Border Collie's brain to help prevent destructive and aggressive behavior. Just remember that dog toys require supervision and interaction to reap all the benefits.
What do you think of the dog toys here? Have you purchased any of it for your Border Collie? Share your thoughts below!