Are you looking for healthy Border Collies for sale in Oregon? If so, you should check these five breeders I've listed and reviewed! All of these breeders are certified and trusted to produce healthy and pedigreed pups that will live long. Most of all, their Border Collie pups are raised in safe, calm, and humane environments and not cages.
It's important to purchase only health-tested puppies to avoid expensive vet fees in the future. Instead of getting your dog from puppy mills, you should check these tried and tested breeders instead:
Border Collies for Sale in Oregon: Top 5 Breeders to Consider

If you're looking for Border Collies for sale in Oregon, you should head to Oregon Bordoodles. While they focus on crossbreeding Border Collies and Poodles, they still produce pedigree BCs from time to time.
Danielle Manire and her husband are the individuals behind the Oregon Bordoodles. They started breeding dogs back in 2014, but they focus more on the crossbred Bordoodles. These are hypoallergenic dogs with the personality of a Border Collie.
Aside from that, Danielle is a certified Puppy Culture Breeder and is a member of the Columbia Agility Team and American Border Collie Association.
Their Border Collie pups are AKC and ABCA certified. They guarantee the health, structure, intelligence, and training of the pups, so you'll get a well-rounded dog.
Moreover, their pups are trained for agility, herding, and an active lifestyle. If you wish to get one of their Bred for Brilliance Border Collies, you should contact them for the application. The waiting time varies, depending on their waiting list and planned litter.
All the dogs from Oregon Bordoodles are raised in a large yard instead of kennels and cages.
Waiting time: More than 12 months
Puppy cost: Around $3,000
---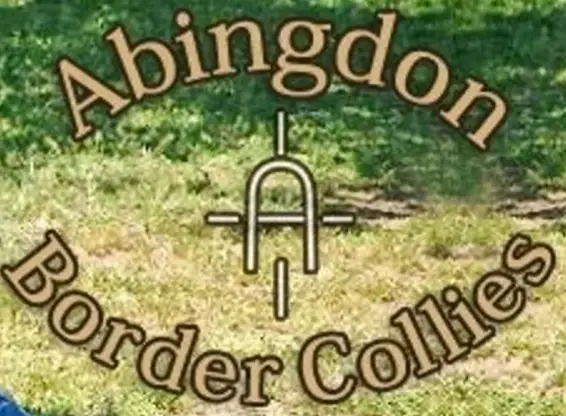 Another breeder you should check is the Abingdon Border Collies in Cheshire, Oregon. This is a ranch where the dogs are raised together with farm animals.
Moreover, this breeder is dedicated to breeding ABCA-certified Border Collies. They raise the pups as working dogs, so expect that you'll receive an active, well-trained, and energetic canine.
Some of the dogs produced by Abingdon have competed in the United States Border Collie Handlers Association (USBCHA). It's guaranteed that their Border Collies have excellent temperament and gentle on other animals.
Aside from that, they will start obedience training once the pups reach 8 to 10 weeks. After that, the pups will be exposed to farm animals at six months old.
Brian Abingdon is the person behind the ranch. He has a successful track record as a handler, clinician, and stock dog trainer. Many of his dogs have graced trial championship venues.
If you also own a farm and looking for a Border Collie to keep your stocks safe, Abingdon Border Collies is the breeder to call.
Waiting time: Please contact the breeder
Puppy cost: Please contact the breeder
---

Are you looking for award-winning dogs? The Butte Ranch Enterprises might be the breeder you're looking for. All the dogs they produce are ABCA, AKC, and CKC-registered. Aside from that, the pups would be vaccinated and wormed before you bring them home.
Moreover, all the Border Collies they breed are competitive while remaining good companions. You must call them first to inquire about the availability of the puppies.
The Butte Ranch Enterprises is a member of the American Border Collie Association and the United States Border Collie Handlers Association. They are responsible breeders, though the waiting time might be longer than other breeders. Also, the puppies' availability is limited, though the owner can direct you to other breeders they trust.
Aside from that, this breeder produces pups with excellent drive, personality, and work ethic. Just note that they aren't specific with the color.
Waiting time: Limited availability
Puppy cost: Please contact the breeder
---
The Double J Border Collies is located in Eastern Oregon, about 4 hours away from Boise, ID. Angie and Guy Johnson are the people behind the name. Their kids Katie and Clay also help in breeding and raising the dogs, so each pup is guaranteed to be well-socialized and desensitized.
They have a six-acre place where they raise their Border Collies. Each pup is whelped inside their home, where they also start exposing the pups to various stimuli.
Once the pups turn 2.5 weeks, they will be placed in a pen for sound desensitization. By the time the puppies reach four weeks, they will be transferred to the puppy shed.
The breeder allows the pups to roam the 600 sq. ft. play yard and the 2,000 sq. ft. grass yard during the day. The puppies will only be placed in large kennels at night time to keep them safe from stray animals.
Moreover, each pup from Double J Border Collies will receive its first set of vaccinations aside from a comprehensive vet check. And if the dog has to fly on a plane, it will be given extra time for crate training.
Waiting time: Please contact the breeder
Puppy cost: Please contact the breeder
---

Last but not the least is the Raven's View Farms located at Terrebonne, Oregon. It's a private farm, and they only perform selective breeding twice a year. This is to guarantee the health of the pups and the safety of the dam and sire.
Moreover, they get all their Border Collie pups DNA-screened for various life-threatening diseases and defects. Some of these are Collie Eye Anomaly, elbow and hip dysplasia, trapped neutrophil syndrome, and more.
The good thing about Raven's View Farm is they will arrange the delivery of the puppies as long as you live within the contiguous 48 states. The pups will arrive with either ABCA or AKC registration.
Rest assured that their Border Collies are top of the line and can compete in various dog events. They also teach the dogs various tricks, so you'll get a headstart on training once the pup arrives.
Waiting period: 6 to 12 months
Puppy cost: $900 to $1,000
---
Frequently Asked Questions
Q: How much should you pay for a Border Collie pup?
A: The price of a Border Collie puppy depends on the breeder where you're getting it. Usually, it ranges from $1,500 to $2,500, depending on the training, health tests, and other requirements that the breeder secures for the canine. Take note that Border Collie pups that cost less than $800 are shady and could be mired with health problems and defects.
Q: Are Border Collies high maintenance?
A: Yes, Border Collies are high maintenance canines, but not in the grooming aspect. These dogs need a lot of exercise and mental stimulation to combat their destructive and aggressive nature. Unless you can keep up with the physical and mental needs of this breed, you're probably better off getting a different dog.
Q: Should I get a second Border Collie?
A: Two Border Collies get well along, especially if you can't be at home all the time. The two dogs have similar personalities and energy levels, which makes them excellent companions. However, make sure that you're ready to take on the responsibility of caring for two high-maintenance canines.
Q: Is Border Collie good for first-time owners?
A: Border Collies are suitable for pet owners with prior experience with dogs. This breed is high-maintenance and will require a lot of attention. Also, it takes a lot of training and socialization to raise a well-rounded Border Collie. Also, you should avoid getting a Border Collie if you have small children.
Q: Are Border Collies indoor or outdoor dogs?
A: Border Collies are yard dogs, but it's best to keep them indoors after playtime. Take note that you should never lock up a Border Collie the whole day. If you do so, the canine will become destructive, noisy, and bored. Over time, this will cause a lot of behavioral problems.
---
Final words
When it comes to Border Collies for sale in Oregon, you should only deal with legitimate breeders. This will save you from expensive vet fees and behavioral problems. Besides, you'd want a healthy pup for your money.
What do you think of these Oregon breeders? Which one are you planning to contact? Let us know below!