Modern pet owners who work at the same time who manages a Border Collie pet seem like an impossible task to do, not to mention having children also. As a result, most often dogs end up being home alone after several hours of working. Even if you are just working from home, you can't help but focus too much on your work than tending your dog's basic needs. You can't help but question, how to keep a border collie entertained while at work?
This can be good or bad. Bad in a sense it can lead to destructive chewing if there were no toy dogs that will keep them preoccupied. That's why we have listed some of the best dog products that will keep a border collie entertained while you are working.
DOG TOY
BRAND
EXPERT RATING
CHECK PRICE
KONG CLASSIC

Dog Toy

Check Price



Outward Hound
Dog Toy

Check Price



West Paw Zogoflex
Dog Toy

Check Price



Reasons why your Border Collie is bored?
The reality is that most pet owners will experience boredom in dogs especially if they don't get the attention they deserve. In this case, dogs might show some indication of boredom, and you want to let that happen. Because if they become used to boredom, they will become very unproductive and it will become their vice.
in addition, many dogs and puppies, in particular, can't control their behavior fully well. As a result, they may end up in destructive behaviors just to spurt out their emotion. This case is very evident if your furry friend is dealing with separation anxiety. With that, separation anxiety can be rectified but it will be a long process with some careful behavioral and conditioning training.
As much as possible, you need to determine their boredom. Fortunately, there are common signs of boredom in order to know if they are really bored or something else. Here are some common reasons why your Border Collie is bored.
Obsessing Over Their Tail
Dogs will chew their feet, seem focused on a particular toy, will chase their tail. If you see this more than usual, this can be worrisome and your dog might be developing some obsessive-compulsive behaviors.
Most dogs will do these kinds of things because it's essentially their coping mechanisms. If you haven't addressed it early on, this can lead to a habit or addictive behavior that may not be good in the long run.
So, better watch out for your dogs at all times or at least while you can even just for a glimpse just to make sure your dog is doing fine and mentally healthy.
Sleeping All The Time
Among the common sign, you will see for your dog who is bored is seeing them taking a nap. Just like a human where the best way to fight boredom is just to sleep about it. This is also the case with dogs because they don't feel like doing anything at all.
Although you need not be surprised by this sign as most dogs sleep at least 50 percent of the day while being active for 20 percent of the day.
In addition, if your dog is taking a nap beyond its normal routine, you may need to give him some toy or play with him just for several minutes maybe while you are on a break from your remote work.
But if your dog is being lethargic and won't even get up, it can be an indication of a health issue. Your better option is to consult your vet regarding this.
They Will Try To Escape
Dogs who try to escape as if they haven't been outside for a while can mean something. Maybe because you haven't really let your dog go outside even for a quick run or walk. This is an obvious sign that your dog really bored in your household and been kept inside for too long. Also, some dogs will try to escape even if you let them go outside in your yard.
This kind of behavior may be their way of saying they need to have more fun. They will even scratch or chew at the door, slipping out your front door. All of these unusual activities are an indication that something bothers your furry friend.
That's why it's important to take your dog outside. Walking them outside is best for them to increase their socialization with other dogs and even helpful for exercise too.
Pawing Or Pawing For Attention
What makes the dogs so cute is they want attention from their masters. They will definitely whatever it takes just to get your attention. Obviously, this is very common and nothing to be alarmed about.
Because of this, dogs needed some mental stimulation or some physical activities, and to do that, they are going to get your attention by pawing or poking at you. Usually, they do this when they are bored or the moment when they see you.
Other than that, dogs will also jump, extra licking, and excessive wagging which is also signs of wanting to play with their master for the reason of being bored.
If this ever occurs to your dog, don't ignore them or brush them off. Instead, you need to address their needs because mental stimulation is important for them especially for dogs who are highly active and intelligent dog breed.
Barking Incessantly For Attention
Dogs normally bark because of many things and it's actually normal, given that it is in their natural default setting to do so. They will bark if someone is passing by on the street, be it a dog, a person, or a vehicle. Sometimes they will bark if there's someone at the door. Because barking is their form of verbal communication.
However, notice if your dog is barking excessively or whines incessantly all day long. This could be a warning sign that your dog is triggered with boredom leading to the point where their mental health is also affected. So, better watch out for this sign. Sometimes you can just ignore them which is completely fine.
Tearing Up Furniture (Destructive Chewing)
The worst form of boredom for dogs can be is tearing up your furniture which is destructive chewing. If you come home and find your sofa is half-eaten, this is a clear sign that your dog was bored, and don't know what to do end up eating your precious couch. Other destructive behaviors include digging at the carpet, chewing on your slippers and shoes, or mangling the table legs.
For dogs, this kind of behavior is their only option to have fun. It's important to watch out for these destructive behaviors especially if you have a Border Collie puppy. You know how puppies are when it comes to chewing, they are the professional destructive chewers.
Best Toy To Keep Your Border Collie Entertained While You're at Work — Our Top 3 Picks For You!
---
OUR TOP PICK: KONG CLASSIC Dog Toy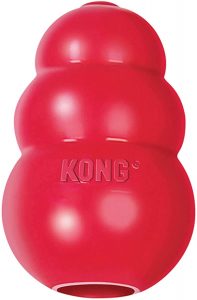 Product Name: Kong Classic Dog Toy
Product Description: Kong Classic dog toy needs no further introduction. Because every pet owners and professionals know the brand Kong. Almost every pet owners have this. The fact that this dog toy is very versatile and sturdy. Dogs will love this especially if there's a dog treat inside. This probably your ultimate weapon to keep your doggo entertained while you are a work. Every dog of all life stages longs to chew this classic toy. Perfect for dogs who have behavioral issues such as separation anxiety, teething, destructive chewing, and also boredom. You can make this as a fetch toy whenever you are outside. In addition, this is great to encourage your dog to exercise. Also, you can stuff some kibble food, dog treat, peanut butter, or any kind of food that's suitable for dogs. Veterinarians, instructors, and pet owners recommend this one because of how versatile this toy is.
Brand: KONG
Offer price: 11.99
Currency: USD
Availability: InStock
Offer URL: https://amzn.to/3r87rZ6
Valid until: December 31, 2025
Boredom Buster

Durability

Value for Money
Summary
All in all, if you want a dog toy that is sturdy and versatile, the Kong dog toy is really for you. We definitely recommend this because not only it's the classic American dog toy, but because it's a powerful tool to prevent your dog to become bored and keeps them entertained.
Pros
American Classic
High reputation among pet owners
Affordable
Cons
Not for aggressive chewers
---
RUNNERS-UP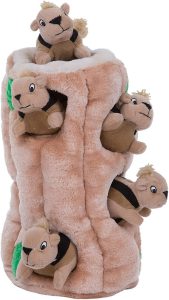 Mental stimulation is good for dogs. It's also crucial to have those activities in order to increase their cognitive ability. That's why the Outward Hound Dog Toy is great for your furry friend.
It is an innovative and one-of-a-kind toy featuring hidden squirrels that are placed inside the plush and soft tree trunk. This is your best choice if you want your dog to keep entertained while you are at work.
Comes with 4 sizes and you can replace the squirrels if it's worn out. There's also a lot of game styles you can choose other than the hide and seek squirrel. This toy comes with 6 squirrels and a soft tree trunk.
In addition, this is a great interactive play in which you can toss the squirrel for fetch or play with your dog alone.
This dog toy is completely harmless and gentle in your dog's teeth and gums. Puppies and adults can enjoy playing these super cute and fluffy squirrels. Although they are not suitable for destructive chewers.
All in all, keeping your dog entertained with this awesome product should be your priority. It's worth it and recommended for pet owners who want to increase their dog's cognitive ability. Also, it's perfectly safe for every gentle chewer. But this is your ultimate boredom buster for your dog. Perfect to keep your border collie entertained while you are at work.
West Paw Zogoflex Chew Toy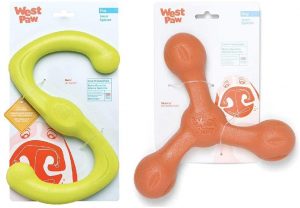 If you want something sturdy chew toy, then we recommend you try the West Paw Zogoflex. Ideal for gentle chewers who are bored of their mundane life.
This will somehow lighten their mood and keep them from being bored while you are away for hours.
The West Brand is among the trusted brand and among the top-tiered manufacturer when it comes to producing quality dog toys and other dog supplies.
You can't imagine how lightweight the West Paw Zogoflex is, but it's so sturdy that it will take some time to replace a new one. You can play fetch with this one or your dog can just chew this all by himself.
It has a unique S-shape design that is great for tug of war games especially if he has another dog company.
This is a great alternative to dog bones, sticks, and plastic toys which are harmful and can cause splinter in your dog's mouth or the esophagus.
You can clean this through a dishwasher which makes it safe and cleaner for dogs. It's also non-toxic and no harmful chemicals are included.
All in all, if you want a dog toy that will last for some time, this is probably your option. It's affordable and comes in two packs which your dog will definitely enjoy.
Keeping your Border Collie Entertained While You're At Work — Here Are 6 Ways!
Now that you know how to spot if your dog is experiencing boredom, there are several ways on how to counter them even if you are tending your important business.
This means your furry friend will be entertained while you are at work because you know some of the ways in which you can combat their boredom.
In that case, we have listed some of the common activities that your lovely pooch will be entertained while you're at work. Below are the common activities that are worthy of your dog's attention.
Invest in A Cozy Dog Bed
If your furry friend has some cozy dog bed for him, it will be a nice relief for them to have such a bed. This is the best way to get him enough rest and to sleep like a log so his boredom will not trigger.
A cozy bed for your dog will also prevent any destructive chewing in him because he has the best bed and it greatly helps his mental health issue.
Don't forget to place some comfy fabrics, orthopedic foam, and some of your old clothing for your scent. This will definitely give your dog a nice and cozy sleep without feeling bored while you are working remotely from home and doing the things you need to do.
You can also check our: Best Dog Bed for Dogs That Chew: Tough Beds for Tough Chewers!

Prepare an Ice Treat
Giving your dog an ice treat or frozen fruit or dog treat is a viable option to counter their boredom. Dogs, particularly Border Collies loves ice treats it is another way to get your pooch preoccupied for several minutes.
All they need is something that will make them happy and among the things that will make them happy is an ice treat.
However, make sure that your dog is in one area only. Ice treats can be messy once it starts to melt. This will make sure that there's no hassle at your end and it's an easy clean-up.
Also, if you want to prolong their "busyness" try giving them chew bones or frozen bully sticks which will definitely consume most of their time munching. This way, you are can work with ease and your dog is tending with his business which is chewing. Perfect to keep your border collie entertained while you are at work
Consider Having Calming Treats
If your dog is suffering from boredom to the point she is getting anxious or distressed in things, a calming treat may be an ideal solution you need. Some of these calming treats usually contain elements that will regulate stress hormones.
There are also topical sprays or pheromone-based products. This is perfectly great if you combine calming treats with your dog having a cozy bed. There's nothing much more comfortable with this combination. It will also greatly reduce your dog's level of boredom which is a great solution for you.
Among the calming treats are:
Aromatherapy – Dog's greatest asset is their smell power, getting your dog into aromatherapy will largely influence their behavior through smelling those scents. And the elements of those in the aromatherapy contain essentials oil which helps the dog's behavior to become calm and just relax.
Composure Soft Chews – Soft chews with calming element is great for your dog who are experiencing boredom leading to anxiety and other behavior issues. This is great for dogs who have difficulty calming down without getting drowsy.
Enroll Your Dog In A Doggie Day Care
Doggie daycare is another excellent way to keep your dog entertained while you're at work. This is because there will be other dog playmates and lots of activities to do all day long. Doggie daycare is your best option if you are working a 9 to 5 job because you have nothing to worry about only the cost of it.
That said, the main downside of this is it will cost you some of your money. Much better to just send a guardian from your family to pet sit your dog especially if you are on a tight budget. Another excellent idea to keep your border collie entertained while you are at work
Set Up a Dog Play Pen
A dog playpen is ideal for adult and puppy Border Collies and other dogs who want to stay calm and be preoccupied with some dog toys. Keeping your furry friend in an enclosed space with a comfortable setup is a nice thing to have for your dog. Fill up the dog playpen with some of his favorite toys or comfy fabrics and pillows.
You can set up your dog playpen in a vacant room, outside, or just adjacent to your home office room. A dog playpen will restrict your dog to move around and stop bugging you while you are working.
Frequently Asked Questions:
Can a border collie be left alone for 8 hours?
Border Collies shouldn't be left alone for more than 3 to 4 hours. Because leaving them for long periods of time will likely develop anxiety and other mental health issues.
If you intend to leave your dog for more than 4 hours, you need to provide a guardian from a relative or someone you know. Better yet, it's best to put your dog in a doggie daycare if you don't have a guardian to rely on.
Do Border Collies get bored at home all day?
Yes. This also applies to all dogs. The main reason why dogs get bored is that they lack mental stimulation. Most dogs who easily get bored comes from intelligent breeds such as golden retrievers, poodles, German shepherds, Border Collies, to name a few.
Also, Border Collies belonged to the smart breed and they needed enough mental stimulation. So, if you are always working away and don't have time with pets, Border Collie may not be the ideal dog for you.
Final Thoughts
Keeping your Border Collie entertained while you are at work may be a difficult thing to do. But having a dog like this is great because of their intelligence and high energy. However, you must make sure that they get enough mental stimulation as well as physical activities.
If ever your furry friend shows some indication that he's on the brink of becoming bored, just read this article and scroll over the information you want for more insights. Also, the best way to keep your pooch entertained si to give him some dog chews or anything that will make him preoccupied while you are tending your own business.