It is such a great feeling to own a Border collie, the smartest dog breed around the world! Yet, the fact that you are planning to have one, you still don't know where to buy this exceptional four-legged herder. So, to help you land on a reputable one, we have here the list of Border collie breeders in Illinois. Check below and see which one suits your preference.
Top 5 Reputable Border Collie Breeders in Illinois
Look at the list of the different Border collie breeders in Illinois here and check their differences below:
1-Crooked Creek Border Collies
JoEllyn Verkler is the head of the Crooked Creek Border Collies. Based on Verkler's story, she was once a Corgi breeder for about 11 years and suddenly shifts her passion into breeding this smartest dog breed. Running this one of the Border collie breeders in Illinois, she highly guarantees that she provides all her knowledge and passion to potential Border collie owners.
You will generally found the Crooked Creek within the vicinity of an 11-acre small farm. So, along with the collie pups, there are also horses running around. Crissna Park, Illinois is the home of this small farm where the Crooked Creek Border Collies breeder belongs.
Once you decide to have a Border collie pups from this collie breeder, you are definitely sure that they already undergo genetic testing. In collaboration with Paw Print Genetics, Crooked Creek assures you that you will bring home a Border collie from a healthy bloodline.
Moreover, visiting the website of the Crooked Creek Border Collies IL, you can get a sneak peek of their latest sires and dams. You can also have the opportunity to see the available puppies here. In case, you want to further be educated about their programs and routines of breeding, you may directly contact them and look for JoEllyn at the contact details below.
*Crooked Creek Border Collies IL Breeder Information:
Address: Crissna Park, Illinois, USA
Contact number: 217-898-0651
Email address: joverkler@gmail.com
2-First Harmony Farms Illinois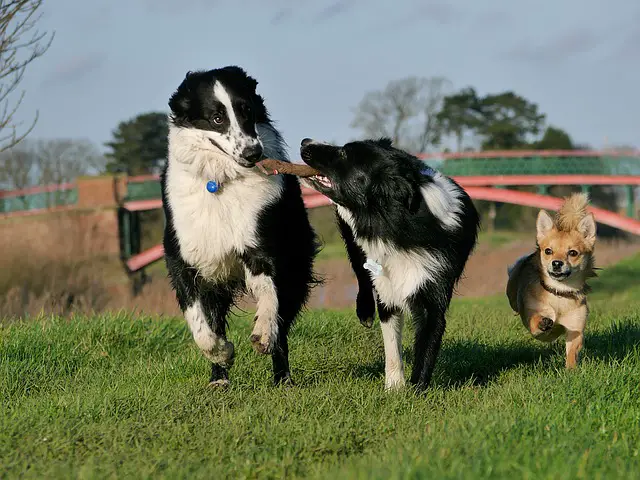 The creation of one of the best Border collie breeders in Illinois made it into reality last 1992. This is due to the effort of Lynette and Stewart VandeVenter who are both veterinarians. From then on, the First Harmony Farms Illinois already become family-run breeding farms today. They generally work hard to strengthen the traits of the Border collies with regards to their health and temperament.
In terms of training the Border collie pups, they usually give much of their time and effort to provide the proper care and love that they need. Moreover, they offer great entertainment to the collies by allowing them to enjoy car rides and obstacle courses within their yard.
There is also the presence of highly skilled Border collie breeders within First Harmony Farms Illinois who are always available within the facility. Their knowledge is highly important for answering queries from potential BC parents. Additionally, you can also go to the First Harmony Farms Illinois website to throw them your collie's related questions.
Getting BC pups with this dog breeder in Illinois will guarantee you that you will be a pet parent of microchipped pups. Aside from that, you will also be sure that the pups are vaccinated, dewormed, and BAER tested before they are handed over to you. So, if you want your BC pups to come from here reach them through their contact numbers below and look for Lynette VandeVenter.
*First Harmony Farms Border Collie Breeder Information:
3-Heronwood's Border Collies Illinois
The Heronwood's Border Collies Illinois is another trusted Border collie breeder in Illinois. Basically, you will have a Border collie equipped with exceptional temperament, adaptability, and high intelligence when you get your BC pup here. In1984, this Border collie breeder started to give an unforgettable experience to potential BC owners to have a high-quality BC breed.
Visiting the Heronwood's Border Collies Illinois website, you will have the opportunity to see their breeding couples and the litters. Also, on their website, they generally feature the proper way of caring for their collie with their breeding program. Reach them directly and look for Karen Bell to have an idea about their waitlist and BC pricing.
*Heronwood's Border Collie Breeder Information:
Address: Olney, Illinois, USA
Contact number: 618-863-2211
Email address: krbell54@yahoo.com
4-Kandu Border Collies Illinois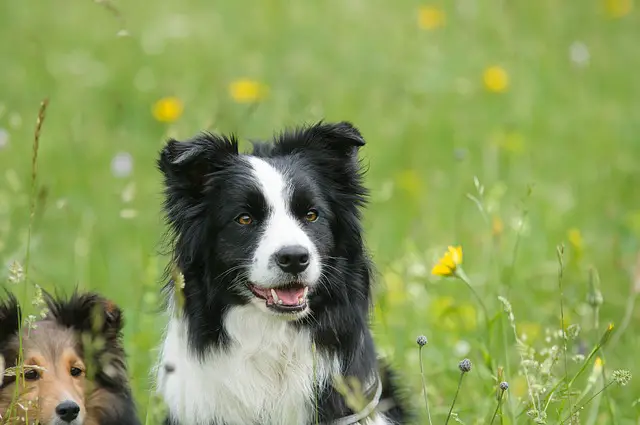 Another inclusion in the list of Border collie breeders in Illinois is the Kandu Border Collies Illinois. They were in this doggy business since 1989 having the ultimate goal of breeding the smartest dog breed in town. Most of their breeding outputs are generally free from any health concerns such as hip and eye issues which are indications of improper breeding.
Actually, part of their Border collie purchasing a package is bringing home a BC pup with pertinent health documents, complete vaccinations, and de-worming records. Aside from that, you will also get a 12-page information booklet. This generally tackles expert advice coming from reputable breeders that helps BC parents in raising their puppy.
Moreover, as a sign of gratitude, the owner of Kandu Border Collie Illinois, Debbie Kessler, gives another incredible bonus – the lifetime support to you and to your BC. Additionally, your collie will also get plenty of socialization time with humans and other animals. Although the pups here are all purebred collies, they are not yet registered with the American Kennel Club.
So, if you opt to pick Kandu as the breeder where you will get your BC pup, visit their Kandu Border Collies Illinois website now. You may also consider reaching them directly on their contact details stated below.
*Kandu Border Collie Breeder Information:
Address: Oregon, Illinois, USA
Contact number: 815-732-4402
Email address: kandu@inwave.com
5-Shoreland Kennel Illinois
Generally, Shoreland Kennel Illinois is one of the trusted Border collie breeders in Illinois that offers the most outstanding collie pups in town. If you will have to purchase your first Border collie here, you will definitely guarantee that you will land on having award-winning collies. The entire kennel is measuring around 40 acres which are really perfect for playing and energy exertion of their Border collies.
There are actually lots of human and animal stimulation for puppies provided here at the Shoreland Kennel Illinois. They generally make sure that the collie pups may get the proper socialization training that they need. Shoreland Kennel Illinois' breeding program basically highlights the improvement of collie qualities and standards.
Suzanne Mayborne is the leader of this Border collie breeder in Illinois. She also became part of the AKC Obedience and Rally Judge. With this, she basically used her 35 years of experience in handling and breeding Border collies and other dog breeds as well. That extraordinary dog breeding experience made her the oldest breeder of Border collies in Illinois.
Now, do you want to be an owner of a collie coming from a highly exceptional bloodline? If yes, just visit the Shoreland Kennel Illinois' website. Or, you may contact them directly to the following contact details below.
*Shoreland Kennel Border Collie Breeder Information:
How to Find the Best Border Collie Breeders in Illinois
Actually, in relation to dog breeding including the Border collie, not all tend to give you an honest claim. Well, because of high collie pups demands, more and more people are in the urge to take profit from producing puppy mills and poor quality dog breeds. That's one of the primary and most important factors that you should have to look for when you opt to buy a collie from a reputable breeder.
Factors in finding Border collie breeders in Illinois
Here are the following factors that may generally help you to land on well-trusted Border collie breeders in Illinois:
*Ask more questions
Dog breeders really care who would be the future pet parents of their collie pups. This basically means that they are not just giving out their puppies to anyone. In connection to this, they will generally ask questions to you like your home address, your expectations as a pet owner, and the needs of your dog. Although it will get you down from your knees, remember that this is just a way for the breeder to make sure that the collie pups will land on the right hand.
*Exclusive Border collie breeder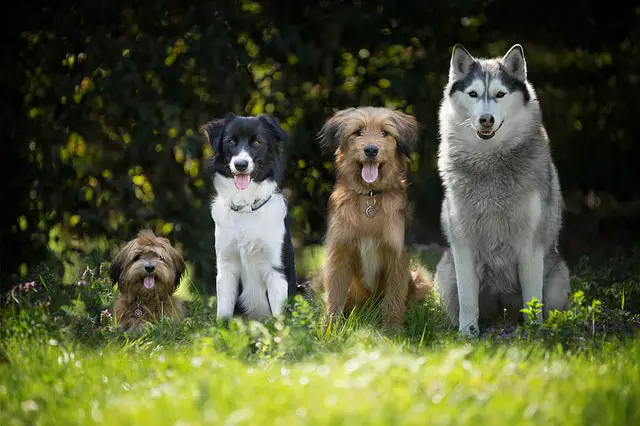 Well, breeding at least two kinds of various dog breed is generally a part of a good operation of the breeder. Yet, always keep in mind that breeding more than one dog breed aside from the Border collie is a great indication that the breeder is operating a puppy mill.
*Member of the Border collie dog club
To know a reputable breeder of Border collie, check if they have show dogs and usually engage themselves in a particular dog club. It is actually crucial to know if the breeder is a member of the Border Collie club or any other dog club.
*Includes a waiting list
Generally, having a waiting list indicates that the breeding process doesn't take place frequently. This way, you will know that the puppies from them are really genuine and of good quality.
Good Places to Find a Reputable Border Collie Breeder
Basically, one way to land on a well-trusted Border collie breeder is to know the best places to find them. Here are some of the recommended sources that you may consider in finding a healthy puppy for purchase.
*Google Map
Google is such really a big help on our everyday lives. Knowing that, you can generally explore the power of the Google Map in finding Border collie breeders in your nearby area.
*Breeder Directory
You can also find numbers of online directory offering various contact details of registered Border collie breeders.
*Online Reviews
Well, looking for reputable Border collie breeders, you can consider making your own research. Try to read online reviews from the actual experiences of BC owners.
*Facebook Groups
Social media is another place to navigate into for you to be able to find a good dog breeder.
Frequently Asked Questions
Q: HOW MUCH DO BORDER COLLIES USUALLY COST?
A: Well, the cost of a Border collie highly depends on how you will able to acquire them. Generally, you have two options of getting a Border collie. The first is to adopt one which will cost you about $300. Actually, that already entails the expenses on the pre-adoption caring of the Border collie.
Meanwhile, when you opt to buy a collie pup, it will generally cost you more bucks. This is actually true especially if you buy from reputable breeders. The price range of the Border collie usually comes from $700 to $2000.
Q: SHOULD I GET A BOY OR GIRL BORDER COLLIE?
A: In terms of the gender preference of the Border collie, you will generally discover that the male one is more likely to keep their puppy traits in high percentage than that of their female counterpart. Yet, the females tend to be aloof and more reserved.
Moreover, the best distinction between these two Border collies genders is the food-motivated characteristic. The male is usually more food motivated than their female version. Well, this is advantageous especially in terms of dog training.
Q: WHAT ARE BORDER COLLIES MIX WITH?
A: Because of their exceptional smartness, most dog breeders tend to combine the Border collie with other excellent-performing dog breeds. Generally, there are 17 possible Border collie mixed breeds that ever exist. Check here for the top 10 breed mixes with the Border collie:
Border Jack – Border collie + Jack Russel Terrier
Bordernesse – Border collie + Bernese Mountain Dog
Border Collie Pit – Border collie + Pit Bull
Borderdoodle – Border collie + Poodle
Border Ausie – Border collie + Australian shepherd
Borador – Border collie + Labrador
Border Point – Border collie + Pointer
Border Heeler – Border collie + Blue Heeler
Bodacion – Border collie + Dalmation
Border Pyrenees – Border collie + Great Pyrenees
Final Thoughts
Finding breeders of Border collie in Illinois is actually a challenge as there are a lot of them promising to offer the best bloodlines of the herder dogs. However, you need to be very keen on looking for the well-trusted dog breeders out there. So, you must have to do your research by following the ways of landing on a reputable dog breeder. Doing that will generally provide you with a happier and healthier Border collie