Handling and training a Border collie necessitates having a dog collar. But, dog collars are available in different sizes. With that, you must have to look for the appropriate size the will generally fit your doggo. Luckily, there is a wide variety of options available for your Border collie collar that you could choose from.
| BORDER COLLIE COLLAR | PRODUCT NAME | EXPERT RATING | CHECK PRICE |
| --- | --- | --- | --- |
| | GoTags Customized Dog Collar | | Check Price |
| | DAIHAQIKO Genuine Leather Dog Collar | | Check Price |
| | Blazin' LED Flashing Light Dog Collar | | Check Price |
| | Didog Personalized Leather Dog Collar | | Check Price |
| | Mile High Life Nylon Dog Collar | | Check Price |
We have here five of the best dog collar for Border collie in the market today. So, in case you can't decide what collar to buy, just stay with us here so that we can help you to filter down your choice.
What to Look for When Buying a Border Collie Collar?
Generally, there are different types of dog collar available. But each type comes with distinct features and style that can basically match the needs of your Border collie. Below are the things that you should have to look for when buying a Border collie collar.
1.       Dog neck measurement
Basically, knowing the overall measurement of your dog will already give you their neck size. Keep in mind that this is very crucial when you buy a Border collie collar so you have to be accurate. Knowing that, using a tape measure, just measure some inches going down from the dog's head where you will place the Border collie collar.
Another option that can help you to get the neck measurement of your collie is to put a string around the dog's neck. Afterwards, measure the string. Generally, the right dog collar fitting must allow you to fit your two fingers between the dog's collar and the dog's neck. This method highly ensures the appropriate collar fitness and gives the assurance that the collar will not cause any strain to the dog.
2.       Dog's fur length
Another thing to consider when buying a Border collie collar is the length of your dog's fur. In taking the appropriate length of your collie's fur, basically, get the measurement after the grooming process. This is highly applicable to those doggo that have long hair.
Moreover, remember that getting the hair length of your dog before grooming will not give you the right size of the collar. But, no matter how long the fur of the dog is, the best dog collar should be adjustable enough and can fit all dogs' sizes without hurting them.
3.       Collar width
Also, take note that dog collars, including Border collie collar, that are available in the market come in different sizes. This generally gives variations on the collar length and width as well. Usually, dog collars have widths ranging from 1/2 inch to 2 inches. In case you are not sure about the strength capability of your dog, it is advisable to choose a collar having a width of 1 to 1 ½ inch.
Here is a table that shows a guide for the dog collar size. This will basically help you to identify the correct collar width that you should pick.
| | | |
| --- | --- | --- |
| Dog Size | Length (in cm) | Width (in cm) |
| X-small | 18.5 – 28.5 | 2 |
| Small | 28.5 – 38.5 | 2 |
| Medium | 37.5 – 47.5 | 3 |
| Large | 47.5 – 57.5 | 3 |
4.       Visibility
Generally, choosing harness and collars in dogs should also consider their safety. With this, the Border collie collar visibility feature is highly essential. The good thing to know that there are Border collie collars available that have LED lightings, reflective stripes, and illuminating effects. This type of dog collars is really ideal during low light conditions or night-time walking of your doggo.
As of now, the LED lighted Border collie collar and other dog collars typically come with a USB rechargeable feature and tend to be the brightest collar available. Compared with the illuminated and reflective type, the LED dog collars also have the ability to turn on either on a solid mode option or blinking mode. These options are generally for the purpose of having additional safety for your collie.
5.       Customizable
There are Border collie collar and other dog collars that can be customized or personalized. This is the type of dog collar in which the personal information like the name, address, or identification number of your dog can be written. You can also put a special saying or quote on the said collar type. Through engraving or stitching, you can basically place all the details that you want to be seen.
6.         Nylon webbing
The most common material of the Border collie collar is made from nylon webbing. This material type is highly durable but soft enough in terms of touch quality. It is actually tough which makes the dog collar withstand the harsh activities every day. Yet, soft enough to avoid the pain that usually occurs when rubbing or chaffing.
7.       Adjustability
Basically, the adjustability feature is the most important on that you should look for when you are opting to buy a dog collar for newly grown-up pups. Well, the good thing about an adjustable dog collar is to prevent the constant buying of various collars during the growing stage of your puppy.
5 of the Best Border Collie Collar
OUR TOP PICK: GoTags Customized Dog Collar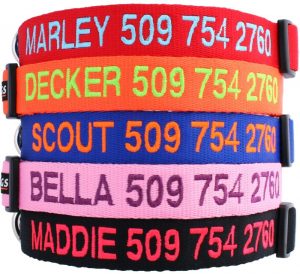 Product Name: GoTags Customized Dog Collar
Product Description: If you are looking for a Border collie collar, well, you can never go wrong with the GoTags Customized Dog Collar. The dog collar is made of durable nylon material in which the name of the dog can be stitched on to serve as identification for your Border collie. There is also a D-ring made from stainless steel which acts as an attachment for the tag and the leash. Moreover, a side release buckle made of plastic is also present on this Border collie collar for a secure and quick release. The GoTags Customized Dog Collar put the name of your collie on it through clear cut lettering. This is a good way to easily read the inscription providing a better chance for your collie to be returned once lost.
Brand: GoTags
Offer price: 12.99
Currency: USD
Availability: InStock
Offer URL: https://amzn.to/3dEPgXG
Valid until: December 31, 2025
Sturdiness

Durability

Craftsmanship

Stretch
Summary
Generally, GoTags Customized Dog Collar offers a wide range of options for you to choose from. The colorful Border collie collar selection allows you to pick the right one for your collie.
Product Features:
Highly readable clear cut lettering
Offers durability and great comfort due to the strong nylon material
With a wide range of style, sizes, and colors available
Pros
Good quality collar
Great design
Highly appealing
Cons
The number of information about the dog is incorrect
Inaccurate sizing
A slider may cover some of the dog's information
RUNNER-UP
DAIHAQIKO Genuine Leather Dog Collar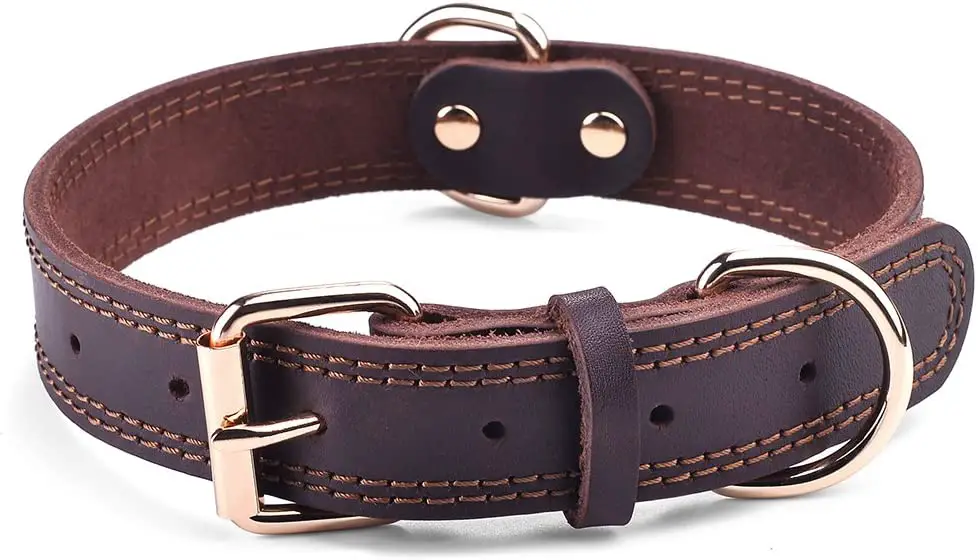 Crafted out of genuine leather, DAIHAQIKO Genuine Leather Dog Collar is one of the best Border collie collar available in the market. Using this, your collie will generally feel comfortable while get ensured for its durability. Moreover, this Border collie collar is also a long-lasting one as a composition is made from durable metal.
Would you believe that you just have to wait for about three to five years before you can able to replace this Border collie collar? What a great one! Not only that it gives better comfort to your collie but it is also a good way to save money due to constant collar replacement.
Product Features
Made of 100% genuine leather material and metal alloy
Various rivets and handmade stitch providing collar durability, reliability, and style
With double D-ring to attach the leash and dog ID tags
Allows convenient walking of the dog
Ideal for daily walking and training
---
Blazin' LED Flashing Light Dog Collar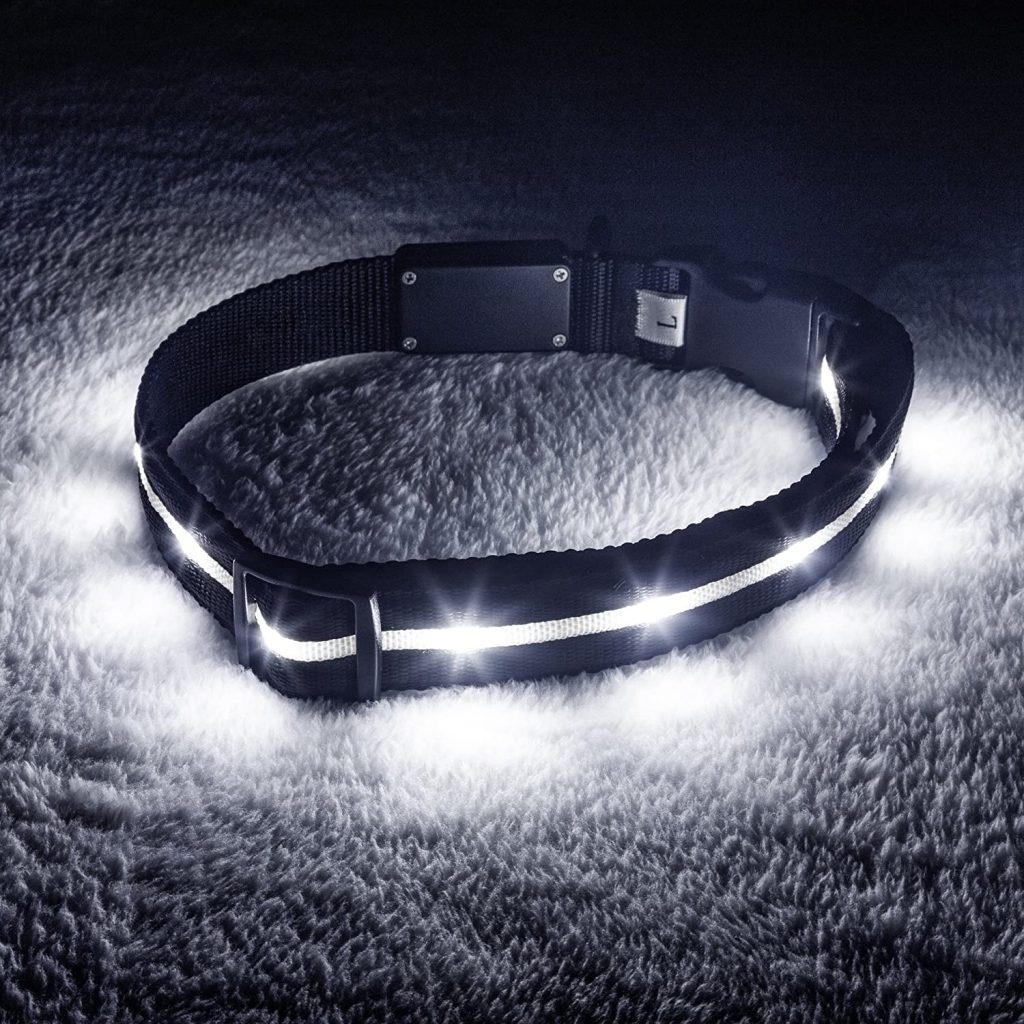 Being a Border collie collar, the good thing about Blazin' LED Flashing Light Dog Collar is that it offers a water-resistant feature despite the presence of LED lights surrounding it. It is highly durable in which you can be highly ensured by its usage for years. With this, the Blazin' LED Flashing Light Dog Collar is an affordable and simple way to keep your collie safe.
Using this Border collie collar would also give you a great sense of security for your dog. The LED flashing lights that it has provided excellent visibility of the Border collie collar up to 350 yards. This means that wearing this can help you to see your collie even in the midst of traffic.
Moreover, it is USB rechargeable which can help you in saving money on the batteries. Another good thing about it is that is generally applicable for charging to any device. The flashing of LED lights can also last for up to 7 hours after charging. So, you even keep an eye on your collie on an evening hike.
Product Features
USB rechargeable which is a little bit economical
Environment-friendly
Water-resistant
Highly durable
With a wide selection of size and style
---
Didog Personalized Leather Dog Collar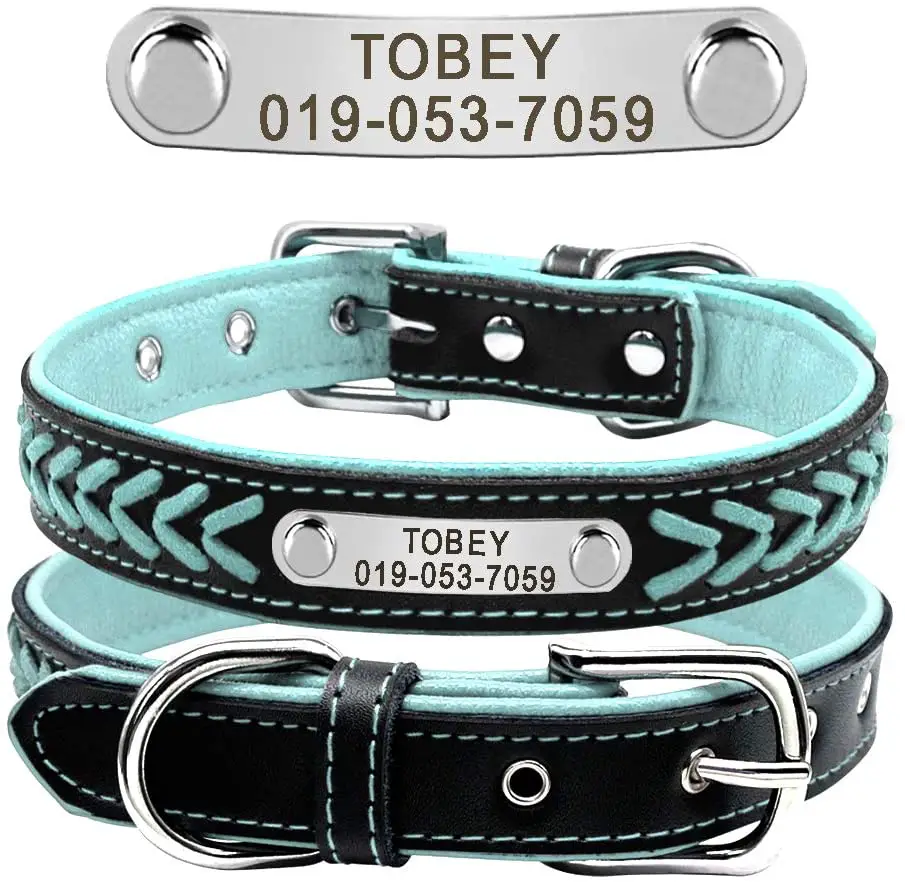 To ensure durability and long-lasting effects, the Didog Personalized Leather Dog Collar uses the best quality materials. It is generally a safe and beautiful Border collie collar because you can engrave the name and the details of your collie on it. Moreover, the letter engraving of your collie's information over the metal provides ease of reading.
Really an eye-catching Border collie collar due to the hand braiding and stitching process, and vibrant color as well. Didog Personalized Leather Dog Collar also comes in ten different rich colors and five various sizes to choose from.
Product Features
Comes with a stylish braided style
Uses an innovative laser engraving technology
Made of high-quality leather material and metal
---
Mile High Life Nylon Dog Collar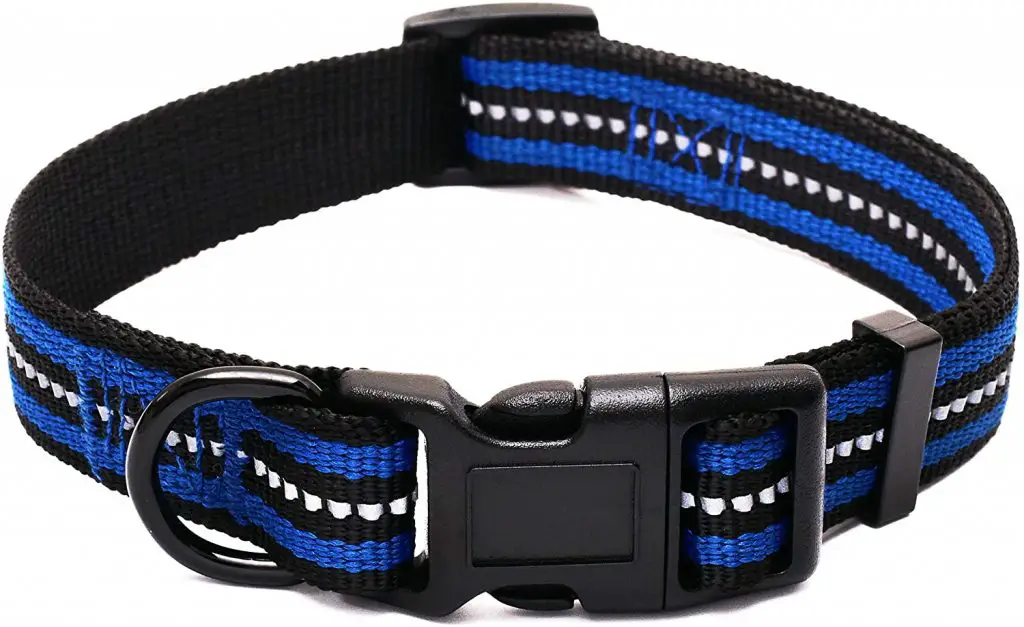 If you want to have a safer walk with your collie, then this Mile High Life Nylon Dog Collar is the right Border collie collar for your pooch. This will generally give you great security especially at night because it has a 3M highly reflective stripe. Aside from that, this Border collie collar is also durable due to the nylon material it is made of.
The Duraflex buckle offers a lightweight feature while accommodates a large loading capacity. Moreover, it also has a D-ring which is generally carbon plated and allows the easy attachment of the dog leash. Your Border collie would find this collar really comfortable for them as the strap is highly adjustable.
Product Features
With 3M reflective stripes that can be easily seen in the dark
Made with highly durable nylon material
---
Frequently Asked Questions
Q: WHAT SIZE COLLAR DOES A BORDER COLLIE NEED?
A: Basically, a medium-sized comfortable dog collar comes in a size range of 40 to 46 cm or 16 to 18 inches, has an adjustable feature. Yet, the color would be nice if it is available in black or gray shade.
Q: WHAT COLOR COLLAR LOOKS BEST ON A BLACK DOG?
A: Color shades of dogs such as blue merle, black, and silver-blue are an example of cool-toned canines. For this doggy tone, it is generally better to look for a warm-shade dog collar like Fuschia, red, or orange. Meanwhile, dark dog color necessitates a lighter dog collar and vice versa. Moreover, any color shade of dog collar looks good for dogs with a white or black tone.
Q: IS A HARNESS OR COLLAR BETTER?
A: Generally, the harness is better and easier in terms of controlling and managing any dog breed. Aside from that, the harness is also beneficial for dogs with leash manners. There are generally numbers of advantages entailed with using a dog harness. One advantage of it is much better control of a strong or large dog breed. Aside from that, it would also be beneficial for you as the harness may be more comfortable on your arms and back.
Q: SHOULD DOGS WEAR COLLARS AT HOME?
A: Actually, dog collars should never be worn by dogs being left on a crate because it generally entails too much risk. Moreover, most dogs at home tend to be active and engage in swimming which does not really necessitate the use of a dog collar. If not avoided, wearing dog collars at home despite those activities may cause skin irritation for dogs.
Q: SHOULD DOGS WEAR COLLARS 24/7?
A: Regardless of the dog collar you are using, it is still advisable no to let your pooch wear a collar for around 24 hours a day. Dogs should be most likely to take off his collar throughout the night.
---
Final Thoughts
Generally, there is a wide range of Border collie collar available. You can choose from the various design and color selections in the market. However, in choosing the best one for your collie, always make sure that it should perfectly fit their needs. Actually, looking for a dog collar for your collie highly involves some important features to consider such as the neck measurement and fur length of the dog. Aside from that, it also includes the collar width, visibility, customizability, nylon webbing, adjustability, and other features that may come with it.
What do you think of the dog collar we reviewed here? Do you know any dog collar that is not included in the list? Please share your thoughts with us!